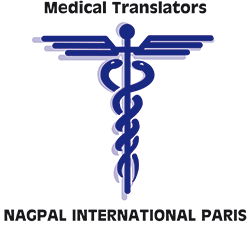 Medical Translators
Paris • Cambridge • New York
65, rue Pascal 75013 Paris France
Tel: +33 (0)1 47 07 55 28
Fax: +33 (0)1 43 37 11 46
E-mail:
President's Message on quality
Quality Guidelines to our Translators
Process
This is how the translation process operates.
You phone us or write to us by e-mail or fax, telling us about the document you need to have translated. Please mention: the language from which it is to be translated and the target language or languages, the subject, the size, (number of pages or words), the time frame within which you need the completed work, the purpose of the translation (publication, drug registration, medical consultation…).
A manager from our team will then contact you, to understand your request. We give you "single-window service", with the same manager seeing you through to the end.
To give you an accurate quotation we may need to see a few pages of the text to be translated. If you wish, we can sign a confidentiality agreement straightaway, by fax. You would then send us a few sample pages or the whole text by fax or email.
We will then give you an accurate quotation for your document: the price in American Dollars or Euros and the time required for delivery of your translation. The price will depend on language pair, difficulty of the text, tables and figures, time frame. (For example a list of medical or technical terms, or a translation concerning a medical apparatus may be more expensive than a simple discursive text…).
If you accept our offer, from first time customers, we request 25% payment in advance before we start your work. This can be done by credit card or by bank transfer.
The translation can then commence. If you have any special inhouse terms or an already developed terminology you may like to let us know. Our doctor-translator will do a first reading. If he feels there are points that he needs to clear with you, we may be back in touch with you. But if there is no problem, the translation goes ahead smoothly.
After it is completed by the main translator, the translation is proofread by a second doctor-translator, unknown to the first translator. This is a very strict re-reading and red ink is not spared. Every figure and proper noun is individually checked. (See our Guidelines to Translators in the section on Quality Control). Only after this re-reading is the translation typed up.
Finally, a third native language speaker does a third reading to ensure that all the proof reader's changes have been correctly entered and that the document reads smoothly.
We are then ready to e-mail or fax you your document. Payment is requested at the same time as delivery of the document.
After sales service: After delivery we contact you again to see if you are satisfied with our work. We guarantee our work against any mistakes.
If you wish us to make any changes to the final document, we will be happy to make them for you, promptly, without discussion and free of charge.
All your original documents are returned to you or destroyed. If you wish we can mail you all photocopies, drafts and notes pertaining to your translation. We undertake not to keep any of your documents or copies.
If you wish to have the document printed, made into a CD, a website, a video presentation, we can undertake this step for you.